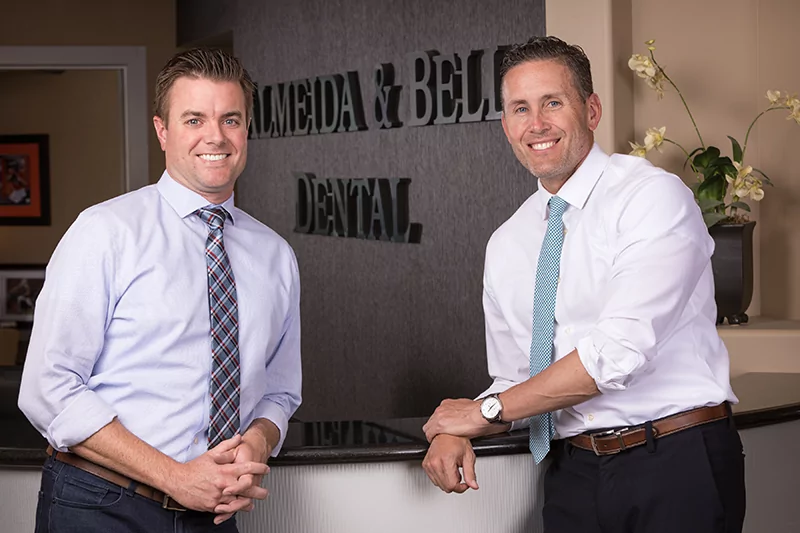 Colorado's Cosmetic Dentists
Radiant, Confident Smiles
Hello and welcome to Almeida & Bell Dental Cosmetic, Implant & Sedation Dentistry , which for 40 years, has been one of the Denver area's leading general and cosmetic dentistry practices. Dr. Adam Almeida and Dr. Paul Bell are ranked among the elite of all cosmetic dentists in the United States, which makes them a top choice for cosmetic dentistry and smile makeovers in Colorado.
They focus on beautiful restorative and cosmetic dentistry, sedation dentistry, and neuromuscular dentistry, which focuses on treating problems with the temporomandibular joint (TMJ Disorder). By changing smiles, we transform lives at our cosmetic dentist office in the Denver area.
Located in Lone Tree, CO next to Highlands Ranch in the southeast suburbs of Denver, Almeida & Bell Dental Cosmetic, Implant & Sedation Dentistry provides a variety of excellent services that are designed to transform your life!
---
---
At Almeida & Bell Dental Cosmetic, Implant & Sedation Dentistry , your comfort is our chief goal. Our cosmetic dentistry doctors and our highly-trained, caring team of professionals take great pride in continually searching for new ways to enhance your dental experience.
Please call our Denver dentist office near Highlands Ranch today at 303-858-9000 to learn more about how the cosmetic dentists at Almeida & Bell Dental Cosmetic, Implant & Sedation Dentistry can help you enjoy a winning smile. One of the friendly professionals on our team will be glad to talk with you and answer your questions about our cosmetic dentistry, sedation dentistry services, dental implants, and TMJ treatment. We look forward to hearing from you!
---
---
What Makes Us Different
We Have History. We've provided almost 50 years of dental excellence to patients in the Denver area.
We're Well-Renowned. Our cosmetic dentistry achievements have been recognized around the country.
Our Patients Come First. Our mission is to provide the highest quality dental experience to our patients. This includes offering the best materials and methods and the latest technology, all as conveniently as possible for you.
We've Got a Lot to Offer. Enjoy our wide range of treatments that include same day treatments, spa-like services, custom payment plans, extended hours, IV sedation, same day crowns, dental implants and bone grafting in-house.
We're Experienced. We have completed over 50,000 cosmetic veneers, crowns, bridges, and implants.
We Know Details Matter. When you come to our office, you'll see that the biggest thing that sets us apart is our years of experience and commitment to quality.
We're Loyal. Some of our staff members have been with us for over 30 years, which speaks to our dedication to our talented staff.
Our Patients Speak for Us. We have patients that have been with us for more than 40 years because they're satisfied with the exceptional quality care we provide.