Your Cosmetic Dentist in Denver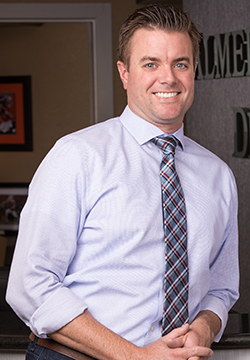 Dr. Paul Bell graduated from Brigham Young University with a Bachelor of Science degree in Electrical Engineering. He attended the University of California at San Francisco where he earned his Doctor of Dental Surgery (D.D.S.) degree, graduating in the top of his class. He was chosen as the "best all around dental student" by his peers. He was also elected to the National Dental Honor Society, an honor given only to the top dental graduates in the country.
Cosmetic Dentistry has a special focus in his practice in the Denver area. He has completed the renowned LVI Advanced Functional Dentistry Program and is listed in the "Guide to America's Top Dentists", published by the Consumers' Research Council of America. Besides being a cosmetic dentist, Dr. Bell continues to invest time in studying the latest techniques in dentistry including dental implants and sedation, neuromuscular, general and cosmetic dentistry.
Dr. Bell has studied under some of the world's leading researchers in cavity prevention and has published his own research in leading dental journals. He loves helping patients learn how to be cavity free, especially those who have a long history of getting cavities. He focuses on preventive dentistry and has helped patients who have had chemotherapy, cancer surgery, radiation, bulimia, diabetes, and other diseases that cause problems in the mouth. He is a member of the American Dental Association, Colorado Dental Association, the Metro Denver Dental Society, and the Academy of General Dentistry. He also has passed tests administered by the Council of the National Board of Dental Examiners and the Central Regional Dental Testing Service and holds a license from the State Board of Dental Examiners.
With a wife and four beautiful children, he manages to stay very busy while away from the office. He volunteers his time as an ecclesiastical leader in his local LDS congregation and as a dentist at Step 13, a local shelter for those recovering from addictions. He enjoys golf, mountain biking, fishing and camping with his family. An eagle scout, he is committed to treating his patients ethically and with compassion. Dr. Bell speaks fluent Spanish and spent 2 years as a missionary for the LDS church in El Salvador.
Give us a call today if you are looking for an outstanding cosmetic dentist in Denver! Dr. Bell and the entire team at Almeida & Bell Dental Cosmetic, Implant & Sedation Dentistry can't wait to give you the smile you've always wanted!