Crowns in a Day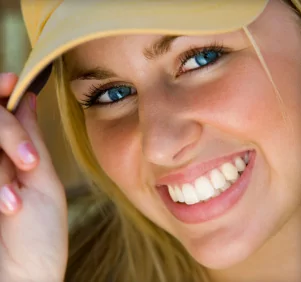 Dental crowns traditionally require multiple dentist visits and a temporary crown while your permanent crown is fabricated in a laboratory. Now, with new E4D Dentist technology, you can receive your new permanent dental crown in just one day!
Drs. Almeida and Bell can now scan your prepared tooth and use the image to virtually design your new dental crown with exact measurements. This virtual image of your new dental crown is sent to a milling station and fabricated in minutes right there in the office. Any adjustments or color alterations can be done right at the dental chair.
You can get your crowns in just one day in less time and hassle!
Benefits of our Technology
Dental Lasers
Denver dental lasers, digital radiography, intraoral cameras, and more are available at Almeida & Bell Dental Cosmetic, Implant & Sedation Dentistry in Lone Tree, CO.
A laser is an instrument that amplifies light energy, and it is this amplified light energy that Almeida & Bell Dental Cosmetic, Implant & Sedation Dentistry , your skilled and caring dentist in Lone Tree, Colorado, uses to reshape tissue and teeth.
There are various types of dental lasers used in dentistry today. Each laser operates at a specific wavelength of light. Certain wavelengths of light are better absorbed by tissue.
Denver dentists Drs. Adam Almeida and Paul Bell can use the dental lasers at their Highlands Ranch area office to cure the composite resin used to fill teeth (white fillings), accelerate the in-office tooth whitening process, and perform soft-tissue surgery. The majority of these soft tissue procedures are performed with just a topical anesthetic gel.
Experience high-tech dentistry at our convenient Lone Tree office!
Digital Radiography (X-Rays)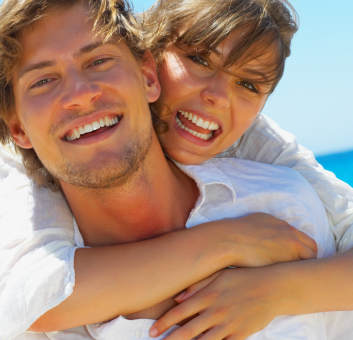 It is now possible to take dental x-rays that expose you to as little as one-tenth the amount of radiation of older, conventional x-rays. Digital radiography doesn't use film and doesn't require chemicals for development. Instead, sensors are placed in your mouth that transmit an image that appears on a computer screen in just seconds.
The resulting digital pictures from digital radiography are more clear than conventional film x-rays. Instead of holding up small films that are difficult to see, you will be able to view the images on a computer screen together with your dentist in Lone Tree. The image can be enhanced and enlarged many times its actual size.
We love how digital radiography makes your diagnosis and treatment safer, more efficient, and more precise!
Computer Imaging
Thinking about having cosmetic dentistry but not sure if you're ready for the change? Computer imaging is able to give you a "sneak preview" of what you may look like after having the procedure of your choice.
Using a digital photo, Denver dentists Drs. Adam Almeida and Paul Bell are able to show you what your smile makeover may look like with porcelain veneers or after tooth whitening. Being able to see a picture of your likely results will help you select the cosmetic dentistry procedures that are right for you.
Computer dental imaging involves looking not only at the teeth but also at the upper and lower jaws. The basic tool of computer imaging is the orthopantomogram, an x-ray examination that provides an image of the jawbone and the entire arrangement of teeth. These images are produced using a standard x-ray technique.
For a detailed assessment of the bones and soft tissues (skin, muscles, and glands) of the face, Drs. Adam Almeida and Paul Bell will do a CT scan. This test generates cross sections of the face, and with a powerful computer, it can produce three-dimensional models of the face.
Our incredible computer imaging tools bring a whole new dimension to your dental care right here in Lonetree, Colorado!
Intraoral Cameras
Intraoral cameras are a revolutionary diagnostic dental tool that allows Almeida & Bell Dental Cosmetic, Implant & Sedation Dentistry , your dentist in Lone Tree, to easily identify potential problems within the mouth in their early stages.
Intraoral cameras are tiny video cameras that look like a pen and enable our dentists to identify areas in need of treatment. A sterilized probe-shaped camera is moved around inside of your mouth. This will provide you with a tooth-by-tooth video exam of your teeth, so you can see your teeth enlarged in vivid detail on a computer screen in the treatment room.
Using intraoral cameras in our Denver area office near Highlands Ranch, the dentist can freeze and store images of the inside of your mouth for further reference and then take an instant photograph for you and your records. This makes your dental care efficient and precise!
Contact Almeida & Bell Dental Cosmetic, Implant & Sedation Dentistry
To learn more about the dental technology we use, including intraoral cameras, computer imaging, digital radiography and dental lasers, call us at 303-858-9000, email Almeida & Bell Dental Cosmetic, Implant & Sedation Dentistry , or simply fill in the brief "Contact Us" form on this page.
We would be happy to set up a consultation for you with one of our Denver dentists, Dr. Adam Almeida or Dr. Paul Bell. We look forward to hearing from you!