Your One Stop Shop for all Dental Implant Needs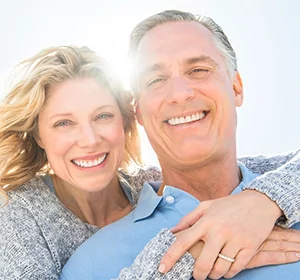 Through injury, decay, root damage, gum disease, or chronic wear, you may lose teeth. A dental implant is an artificial tooth root that is fixed to your jawbone. A replacement tooth or bridge is fitted to the dental implant that looks and functions normally. Dental implants are a great way to replace your missing teeth.
Benefits of Implant Dentistry
Successful: The success rate of dental implant restorations is very high.
Looks Great: Dental implants restore your smile with healthy, natural-looking teeth.
A Permanent Solution: Compared to other restorative options such as bridges and dentures, dental implants are stronger and longer lasting.
Natural: A dental implant looks and feels like a normal tooth.
Easy Maintenance: Dental implants don't decay, and they are easy to clean.
All You Can Eat: You can eat the foods you love because the dental implant is anchored to your jaw.
Effective: The underlying bone structure is preserved while the dental implant supports a dental crown replacing a single tooth or a bridge replacing multiple teeth. Dental implants can also add stability to dentures and reduce irritation of gum tissue.
No More Damage: Dental Implants don't affect surrounding teeth, unlike some other tooth replacement options.
The Dental Implant Procedure
The entire dental implant procedure, from diagnosis to dental implant placement to the crown restoration, is all performed in our Denver area office on Lincoln Avenue in Lone Tree. This is not only convenient. It also provides implant dentistry patients with a continuity of care that can get lost when going from one office to another.
There are several steps to the dental implant procedure that happen over a period of time:
Your Denver dental implant dentist at Almeida & Bell Dental Cosmetic, Implant & Sedation Dentistry near Highlands Ranch does an examination of the area with x-rays.
To fit the dental implant, a small titanium rod is placed into the jawbone. This procedure is done by an oral surgeon, who we have as part of our skilled team. This means you can have the entire dental implants procedure done at our comfortable, convenient office.

On top, a protective cover screw is placed to allow the site to heal. Over a period of several months (usually 3-6 months), the implant site heals, and the dental implant anchors to the bone through a process of osseointegration.
When the site has healed, the protective cover is removed by your implant dentist right here in our implant dentistry office in Lone Tree, and a temporary crown is placed on the dental implant.
When the gum grows and shapes itself naturally around the temporary dental crown, a permanent porcelain crown will replace the temporary crown.
Your porcelain crown now functions like a normal tooth. Although the dental implant cannot form cavities, it is recommended to continue good oral hygiene to protect the surrounding area, especially the gum tissue.
Denver dentists Drs. Adam Almeida and Paul Bell skillfully position the dental crown or permanent tooth after our onsite oral surgeon places the dental implant. You no longer need to worry about missing teeth. Dental implants can beautifully, effectively, and permanently restore your full smile!
Missing several teeth? Visit our Implant Supported Dentures page to see if it could be the solution for you.
Restore Your Smile in Lone Tree, Colorado!
To learn more about how dental implants can help you, call our Almeida & Bell Dental Cosmetic, Implant & Sedation Dentistry implant dentistry office today in Lone Tree, next to Highlands Ranch, CO, at 303-858-9000 or send the simple form on this page. We will be glad to contact you!