Professional Teeth Whitening in Denver & Lone Tree, CO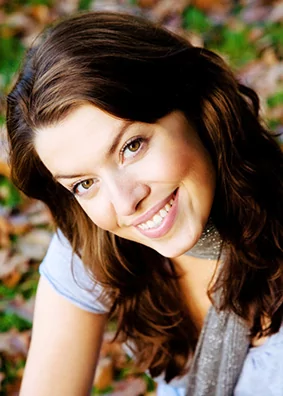 A bright, white smile goes a long way in making a good impression and helping you feel more confident. Teeth whitening is one of the easiest and most common cosmetic dental procedures. From natural aging and lifestyle, our teeth often become discolored.
Through professional tooth whitening at our Lone Tree dentist office, Drs. Adam Almeida and Paul Bell can turn your teeth many shades brighter for a gorgeous smile!
The Process of Teeth Whitening:
Through natural aging and lifestyle, our teeth can become discolored. Common causes of tooth discoloration are smoking, aging, and consuming substances such as coffee, cola, red wine, tea, and tobacco. Discoloration occurs as the tooth enamel becomes less porous.
Teeth whitening uses oxidizing agents to oxidize stain deposits, lightening the tooth color. After professional tooth whitening treatments, your teeth can be many shades whiter.
Because all teeth are not naturally the same color, teeth whitening helps make your smile uniformly white.
Benefits of Professional Teeth Whitening
One of the easiest anti-aging procedures! White teeth make you feel more confident and thus more willing to smile. Research shows that people who smile more often are actually perceived as younger, especially when their teeth are a beautiful white color!
Whitening is the most conservative way to whiten teeth. Unlike treatments such as veneers or crowns, professional teeth whitening does not require an etching process to prepare the tooth. Thus, with tooth whitening, you get white teeth in the most conservative manner possible.
Improved oral health care. Anecdotally we can say that patients who have had their teeth whitened tend to show an improvement in their oral health care routine. After experiencing the positives of what it's like to have pearly white teeth, patients are more inclined to brush, floss, and see the dentist for regular cleanings.
Schedule a Professional Teeth Whitening Near Highlands Ranch
Denver's Almeida & Bell Dental Cosmetic, Implant & Sedation Dentistry near Highlands Ranch offers in-office professional tooth whitening to restore a brighter, whiter smile. Take-home teeth whitening kits by NiteWhite® are also available for patients with scheduling conflicts or for patients who prefer teeth bleaching treatments in the comfort of their own homes.
If you would like a whiter, brighter smile, call us at one of our offices in Denver or Lone Tree, Colorado, at 303-858-9000 or send the simple form on this page, and we will be glad to contact you.