Dental Veneers Dentist in Denver & Lone Tree, CO
Transform Your Smile Instantly With Veneers for Teeth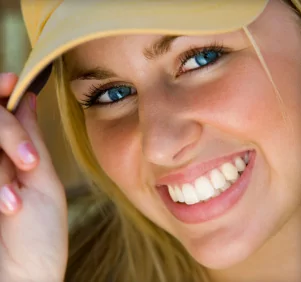 A porcelain veneer is a thin, custom-made porcelain molding made to cover the front of the tooth. Porcelain veneers can cover unattractive gaps, mask stains, and conceal misshapen or crooked teeth. Each porcelain veneer is bonded onto the front of a tooth to create an aesthetically pleasing smile.
Why are Dental Veneers Made Of Porcelain?
Porcelain is a durable material that closely resembles your natural tooth enamel in color and texture. Porcelain does not easily stain and does not decay, which makes it great for dental veneers. Porcelain veneers create a natural-looking smile.
"Dr. Bell did a great job talking me through all of the options available. . . I knew it was going to make a difference but I didn't realize just how much."
-Jeannene Durback, Porcelain Veneer Patient
Benefits of Porcelain Veneers
Radiant Smile: Porcelain veneers create a stunning smile! Patients love the renewed confidence that they get after their dental veneers have been placed.
Realistic Looking: Each porcelain veneer is individually sculpted for your mouth and looks natural.
Don't Lose Original Teeth: Your original tooth is not altered very much to fit the dental veneer.
Tooth Whitening: Teeth of all shades can appear bright white with porcelain veneers. The color of a porcelain veneer can be chosen such that it makes dark teeth appear whiter.
Stain Resistant: With proper care, porcelain veneers are resistant to stains from tea, coffee, and cigarette smoke. They stay brighter and whiter longer than normal teeth.
"Instant Orthodontics": When covered with dental veneers, small gaps, minor overlaps, and uneven teeth can be corrected for a gorgeous smile.
A Normal Life: Porcelain veneers look and feel like your natural teeth. You can eat the same foods as before the porcelain veneer procedure.
Schedule a Porcelain Dental Veneer Consultation in Denver or Lone Tree, CO!
If you are considering porcelain veneers, it is important to find a qualified and artistic cosmetic dentist rather than just a general dentist. Lone Tree and Denver, CO, cosmetic dentists Drs. Adam Almeida and Paul Bell are experienced and skilled cosmetic dentists that can create your beautiful new smile with porcelain veneers.
See our smile gallery for before and after photos featuring some of our porcelain veneer patients.
Call Almeida & Bell Dental today at 303-858-9000 or send the simple form on this page, and we will be glad to contact you.