New North Denver Office Now Open & Scheduling!
The wait is over! Almeida & Bell Dental is thrilled to declare that our brand-new dental office in Denver is now open and ready to serve you. After undergoing construction, we are excited to offer exceptional dental care with a special emphasis on cosmetic dentistry procedures. Our team is dedicated to providing patients from Central Park/Stapleton, Northfield, and nearby regions with the same high-quality care that has been our trademark for over four decades in Colorado. Whether you're seeking a complete smile transformation or simply need routine dental services, our new office is the place to be. Come and experience the Almeida & Bell Dental difference today!
Denver Office Hours
Monday 8:00 am – 5:00 pm
Tuesday 9:00 am – 6:00 pm
Wednesday 7:30 am – 4:00 pm
Thursday 7:30 am – 4:00 pm
Friday 7:30 am – 12:00 pm
---
Your Dentist in Denver, Colorado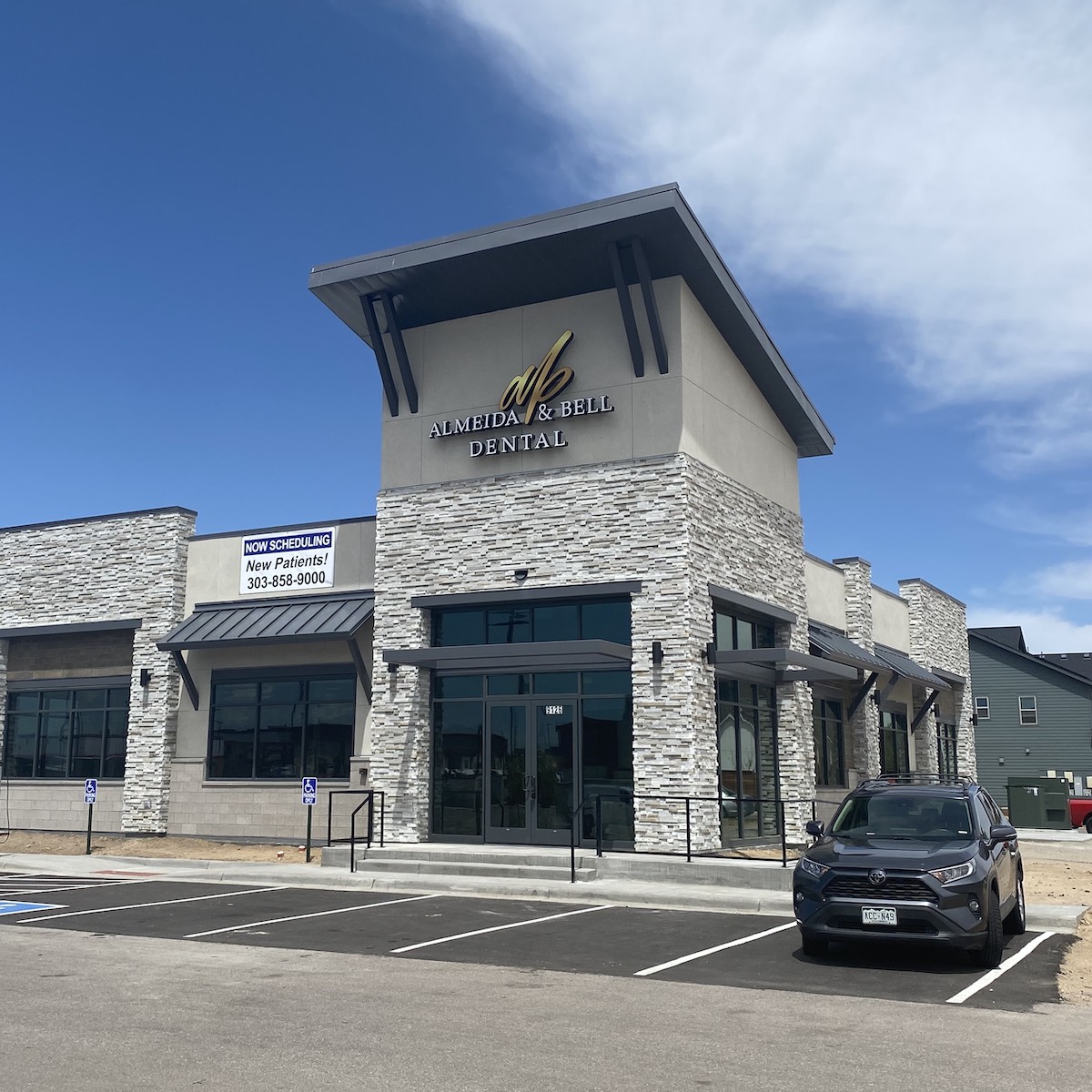 You pay close attention to your appearance and hygiene. When was the last time you gave your smile some care? If you have been neglecting your smile, come in to Almeida & Bell Dental Cosmetic, Implant & Sedation Dentistry in Denver, CO. Let us tend to your smile!
We have many options to restore your smile, including cosmetic services, restorative treatments, and general oral health checkups.
---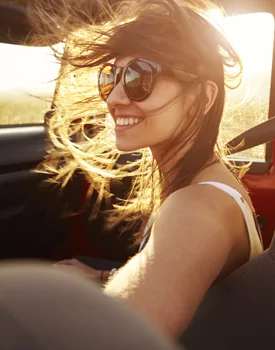 We offer many cosmetic dental treatments to give you the dream smile you desire and deserve! Among those options, we are especially proud to offer teeth whitening, porcelain crowns, and porcelain veneers.

Teeth Whitening | For some people, the color of your teeth may be in the back of your mind, even if the rest of your smile is great. A bright smile can boost your confidence and make a lasting impression. Take advantage of our extensive knowledge to effectively whiten your teeth. We want to help give you the type of smile you cannot wait to share!

Learn More About Teeth Whitening

Porcelain Crowns | If you have a damaged tooth for any reason, you may need a crown to protect the tooth from further damage and complete your smile. Get your crown at Almeida & Bell Dental Cosmetic, Implant & Sedation Dentistry. We can scan your tooth, produce a unique crown, and place it in a day! Convenience and healthy smiles go hand-in-hand at our office. Don't go another day without having a complete smile. 

Learn More About Dental Crowns
Porcelain Veneers | A straighter smile can be yours in only 2 visits! The first visit allows us to scan your teeth and determine how a unique set of veneers will help you. When the veneers are produced, we place them in a second visit. Forget the struggles of braces. Easily obtain the dazzling smile you want with porcelain veneers!

Learn More About Dental Veneers
---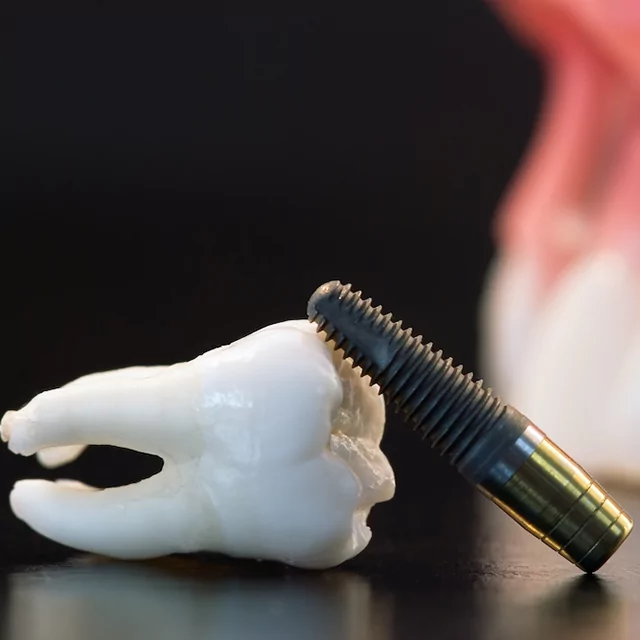 Advancements in dental technology have made it possible to replace your missing teeth with dental implants. Dental implants are replacement teeth that are designed to mimic the look and function of your natural teeth—from root to crown! An implant makes it possible to smile and perform all of your daily functions with confidence. The following are the reasons why our patients love dental implants:
Incredibly long-lasting: With proper care, your implants can last for decades or even a lifetime. 
Designed to look like your natural teeth: The replacement crowns with your implants are custom-designed to look like your natural teeth. They are made out of beautiful porcelain white and they look amazing.
Allows you to eat, chew, and smile with confidence: You'll be able to rely on your dental implants to take you through the day and do everything that you need with your teeth. You can enjoy your favorite meal and smile around your family and friends.
Learn More About Dental Implants
---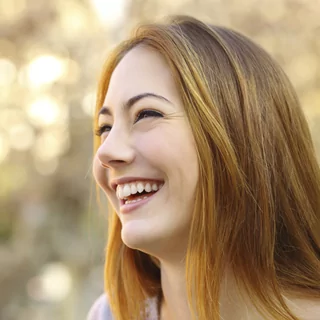 We center all of our patient experiences around comfort. When you come into our office our friendly staff will greet you and take you back to our dental chair. It's important to us that you're relaxed and that you feel comfortable before performing any work. That's why we offer IV sedation to any patients that need some extra help feeling relaxed. 
IV sedation is a fast-acting relaxing medicine that can help you feel at ease throughout your stay in our office. During the process, we will check up on you to make sure that you continue to feel good. Besides sedation, we also offer the following amenities to give you a comfortable visit:
Variety of music and DVD selections.
Warm blankets.
Fresh, lemon-scented towels.
Massage chairs (with advanced scheduling).
Learn More About Sedation Dentistry
---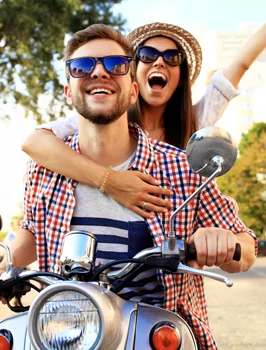 The best way to keep your teeth healthy is to prevent them from having any problems in the first place. Our general dentistry services are designed so that we can monitor the state of your oral health and get rid of any plaque that has built up since your last visit. When you arrive at our office, our friendly staff will greet you and then proceed to perform the following steps:
X-rays and oral health evaluation: We will take x-rays of your teeth that we will use to determine if you have developed any cavities since your last visit. Dr. Bell or Dr. Almeida will personally examine your teeth to help determine any areas of focus. If there is anything that we find, we will help develop a treatment plan to address it. 
Professional Cleaning and Flossing: Our hygienists will thoroughly clean your teeth. They will gently scrape away any plaque that has accumulated on their surfaces and in hard-to-reach places. They will polish your teeth and apply a protective coating of fluoride to help strengthen your teeth.
Education: We want you to be able to provide the same level of care for yourself at home and we will answer any questions that you have before you leave our office. If you have any questions about your daily oral hygiene routine, please ask!
Learn More About General Dentistry
---
Schedule an Appointment with a Dentist Near Denver
Questions? Looking to schedule an appointment with Drs. Paul Bell and Dr. Adam Almeida? Call 303-858-9000, text, or contact us using the form on this page. We look forward to helping you with your dentistry needs!