Cosmetic Dentist in Denver and Lone Tree, CO
Aesthetic Dentistry to Help You Achieve a Winning Smile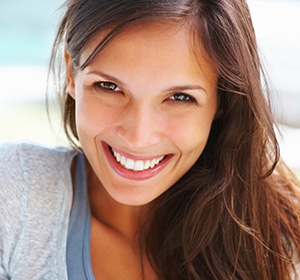 Through excellent cosmetic dentistry, Almeida & Bell Dental of Lone Tree and Denver have been able to help countless patients in the Denver, Colorado area achieve the winning smiles they've always dreamed of having.
There are many reasons to smile in life, but some individuals feel they have to keep their smiles hidden because they are embarrassed by the appearance of their teeth. Fortunately, cosmetic dental services such as teeth whitening or porcelain veneers make it possible for these individuals to restore beauty and vibrancy to their teeth, allowing them once again to smile with pride and confidence.
Full Mouth Reconstruction
Natural-Looking Cosmetic Dentistry Solutions
At Almeida & Bell Dental Cosmetic, Implant & Sedation Dentistry, we are pleased to offer an extensive range of safe, aesthetic, completely natural-looking cosmetic dentistry solutions to discolored, misshapen, or missing teeth for a beautiful smile makeover.
"One of the things I tell everybody if they're looking to get cosmetic dentistry done, whether it's with me or another dentist, is to do your due diligence. When you go these places, ask to see their work. If they can't show you their work then you might want to think twice."
– Dr. Adam Almeida, Cosmetic Dentist
Advances in cosmetic dentistry over the past decade have nearly eliminated the use of metal of any kind in restoring teeth. Instead, patients may expect restorations that look and feel extremely natural, such as porcelain crowns and dental veneers. Indeed, as a patient of Denver's Almeida & Bell Dental Cosmetic, Implant & Sedation Dentistry, you can be assured that only the highest quality materials and most advanced techniques will be used in your dental work, leading to beautiful results that can last for many years.
Smiles That Complement You!
At Almeida & Bell Dental, with locations in Denver and Lone Tree, we take great care in designing a smile that will suit you. In preparation for cosmetic dental services, a series of careful facial measurements will enable us to create a smile that ideally complements your bone structure, age, and gender. Thanks to advances in computer technology, we are also able to give you a preview of your new smile before you undergo treatment. Through digital imaging software, we are able to show you an image of your redesigned smile. We'll even give you a copy of the image to share with your family and friends!
To learn more, contact our cosmetic dentistry practice today. We have office locations in Denver and in Lone Tree, CO.
Some Cosmetic Dental Services Offered at Our Lone Tree & Denver Offices:
"It's great coming in here. The office is comfortable, the staff is friendly . . . it just feels like a family around here."
– Chris Matson, Porcelain Veneer Patient
"Smile and the whole world smiles with you," or so the old saying goes. Yet, it may be difficult to smile if your teeth are uneven, chipped, or discolored.
Fortunately, porcelain veneers provide an excellent cosmetic dentistry solution to these aesthetic problems. Porcelain veneers are wafer-thin shells of porcelain that are bonded onto the fronts of teeth.
Although dental bonding is effective for correcting minor flaws such as small chips and discoloration, porcelain veneers are better able to correct more extensive imperfections. In addition, they are highly resistant to staining and discoloration.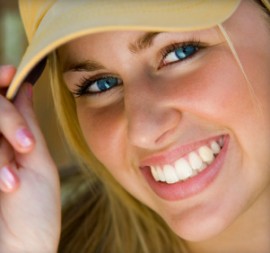 With beautiful, all-porcelain dental crowns, physical discomfort and embarrassing aesthetic problems associated with damaged teeth will be a thing of the past. Crafted from strong, durable porcelain, a dental crown is customized to cover the entire surface area of a tooth in order to restore it to its normal size.
In addition, a porcelain crown strengthens and improves the appearance of a tooth and can be used to reinforce teeth that are cracked or structurally weak. A dental crown can also be used to hold a loose filling in place as well as to conceal misshapen or discolored teeth.
While porcelain crowns are routinely used to protect and restore teeth, they are also included in cosmetic dental services because they can be shaped and colored to blend in with your natural teeth, giving you a beautiful result.
DENTAL BONDING
Dental bonding is an excellent method for repairing minor imperfections in teeth, such as chips, cracks, and stains. When first applied, the teeth bonding material is pliable, meaning that it can be sculpted to complement the shape and texture of surrounding natural teeth. A high-intensity light or a chemical agent is then used to cure and harden the cosmetic bonding material.
Finally, your cosmetic dentist in Lone Tree will smooth and polish your newly bonded tooth to give it an even, natural contour. Cosmetic dental bonding for teeth will not only give your tooth or teeth a better aesthetic appearance, but it will strengthen them and protect them against future damage as well.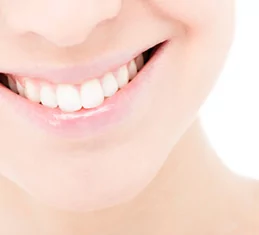 One sign of youth and health is a beautiful, white smile. Unfortunately, as we age, a variety of factors may cause our teeth to lose the brilliant shine that reflects this youth and vitality. Fortunately, though, modern cosmetic dentistry offers a wide array of teeth whitening treatments that are able to help restore this shine that has been lost due to consumption of soft drinks, coffee, tea, and tobacco products. Options available to restore your gleaming, bright smile include in-office bleaching and take-home teeth whitening procedures by NiteWhite®. Some patients seeking tooth whitening prefer to do so at home for comfort and scheduling reasons. For such tooth whitening patients, Drs. Adam Almeida and Paul Bell offer take-home tooth whitening kits. Professional tooth whitening is perhaps the most popular of the cosmetic dental services offered. If you would like more information about our teeth whitening options, contact us today.
Tooth-Colored Fillings
In the last 15 years, tooth-colored fillings have replaced traditional dark silver mercury amalgam fillings in repairing small areas of decay or fractured enamel on back teeth because they are more natural-looking and aesthetic and require less tooth reduction. Made of a composite resin material, these fillings are extremely strong and durable, reinforcing weakened teeth and preventing further damage from occurring. In addition, tooth-colored fillings may actually be safer than their traditional counterparts as they are completely mercury-free. Indeed, to avoid the risks associated with mercury, many European countries have banned the use of silver amalgam fillings in patients.
Smile Makeover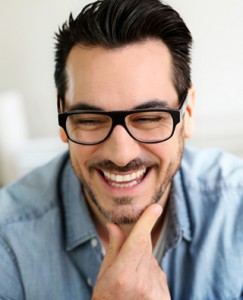 A smile makeover is a combination of cosmetic dental procedures that enhances the beauty and appearance of the smile, correcting almost any problem. Drs. Adam Almeida and Paul Bell, cosmetic dentists with offices near Highlands Ranch and Central Park, are able to straighten crooked teeth, repair chipped and broken teeth, and replace broken teeth. In addition, they are able to close gaps between teeth, re-contour gummy smiles, and whiten stained and discolored teeth.
The result is that you will have a smile that is straight, white, and even.
A smile makeover is typically created with the use of porcelain veneers, porcelain crowns, and porcelain onlays. Veneers are thin shells of porcelain that are bonded to the front surfaces of the teeth. Offering a natural look and feel, veneers allow Drs. Adam Almeida and Paul Bell to dramatically change the length, width, color, and shape of a tooth. In addition to restoring teeth to their natural beauty, veneers are also resistant to staining, creating a beautiful, balanced smile that will endure for years with proper maintenance. Porcelain crowns and onlays offer similar advantages.
Once you and your Denver cosmetic dentist determine the "style" of the desired smile, the dentist will take an impression of your existing teeth. That impression is sent to a lab with precise instructions of what the smile should look like. In just a couple of visits, your new smile will be done. To learn more about a smile makeover, contact us at either of our practices in Denver or Lone Tree today.
Contact Denver's Almeida & Bell Dental Cosmetic, Implant & Sedation Dentistry
To learn more about our cosmetic dental services or set up a consultation with Dr. Adam Almeida or Dr. Paul Bell, call us at 303-858-9000, email Almeida & Bell Dental Cosmetic, Implant & Sedation Dentistry , or simply fill in the brief "Contact Us" form on this page.
We look forward to hearing from you and helping you receive a winning smile through cosmetic dentistry!