---
Tiffany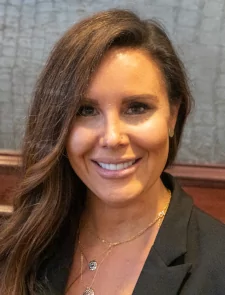 I have been in the dental field and working at Almeida and Bell Dental since 1999. I love to help patients get the dental work they need and/or want. I also love working with the best staff and doctors. I look forward to going to work every day! My favorite part of dentistry is seeing the confidence our smile makeovers give our patients!
I grew up in Littleton, CO and now live in Southeast Aurora. I love to sing, go to the movies and read books. I love hanging out with my husband, 2 kids and 2 dogs. I love traveling and Elvis Presley! My favorite way to spend the weekend is going off-roading with my husband in our Bronco and seeing all the beauty Colorado has to offer!
I want to be remembered as a good and caring person.
---
Abigail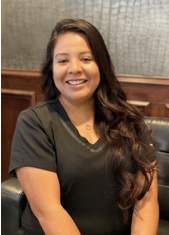 My name is Abby,
I was born in Mexico and raised in Colorado, I am married and have a 2-year-old boy that keeps me busy and very entertained.
During my free time I enjoy taking my son to the pool and new parks that we have not been to. I also like to spend time with my friends and family. I have been working for Almeida & Bell for over 5 years, I love our Dental family at Almeida and Bell.
I have a passion for dental but specifically the Oral Surgeries.
---
Kellie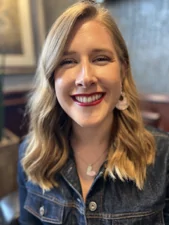 Hi! My name is Kellie. I love working in dentistry and specifically at Almeida and Bell Dental because I love working alongside patients. I love seeing patients walk in with insecurities and concerns about their smile, and then walk out later excited and confident about what our office has done for them. When I'm not working, I love to go hiking, hang out with my daughter, and try new restaurants with my boyfriend. I am also passionate about skin care and makeup, so I love building my business with Mary Kay!
I am also a huge Husker fan; so, GO BIG RED!!
---
Ceara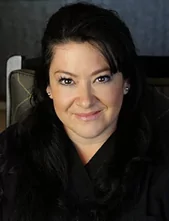 I've been with Almeida and Bell for 15 years. I am most passionate about making a difference in the lives of our patients. Our cosmetic makeovers can change a person's life, and knowing that I had a hand in making that happen is exciting and fulfilling. I have 3 adult kids, 2 of which are in college at CSU. In late summer early fall I love going to Farmers Markets. I want to be remembered as fun, loving and a good wife and mother.
---
GayLynn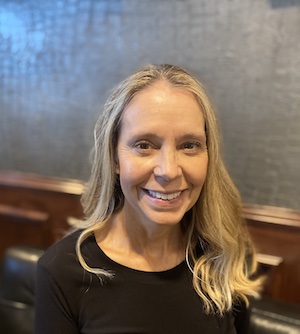 Professionally, I am passionate about patient care and being thorough during your visit. I also enjoy educating you on your oral hygiene needs and listening to your concerns and desires. I have been a dental hygienist since 1995. I grew up in a small farm town in Iowa. It was my love for the outdoors that brought me to Colorado. I enjoy spending time with my son and experiencing events and activities together, spending time with family and friends, and doing research. Sometimes I can't stop talking about how much I love being a mom. When I'm not working you can find me outdoors; hiking, biking, enjoying reading and listening to podcasts. When away from the office I am planning new adventures with my son, lastly I love gardening.
---
Kristen
I love the dental industry and have been working for Almeida & Bell Dental since 2006! I'm passionate about helping people feel good about themselves and their smile, and assisting them with having a great dental experience! I've worked as both a dental assistant and up in the front office but now currently specialize in surgical coordination and insurance behind the scenes for our awesome patients. When I'm not working, I love spending time with my husband, 3 children and 3 dogs. I also love working out and am very passionate about body health and fitness!
---
Sheri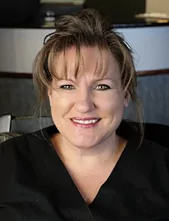 Hello all, I am Sheri. I have been a fixture in this Dental practice for 28 years. I enjoy the family atmosphere that we have here and love all of my co-workers. The quality dentistry we provide here, and the lives we change through creating beautiful smiles and healthy mouths is very satisfying as a professional. Family is very important to me. I have two grown children and a beautiful granddaughter that I cannot get enough of. Traveling is one of my very favorite things to do, but seeing new places in my own state and having adventures with my family is my passion. Photography is my favorite hobby.
---
April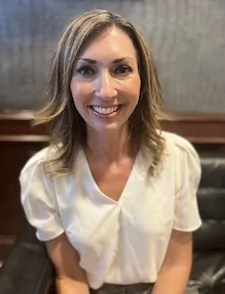 Hi! My name is April and I love being a part of Almeida and Bell Dental! I really enjoy helping clients here feel better about their dental health and their smiles! It's a wonderful feeling to see patients so happy when they get a smile makeover or when they are receiving quality care. It truly is like a family working here! When I'm not working here I love hanging out with my family, going on dates with my hubby (aka Dr Bell), running, hiking, playing piano and eating!
---
Zulma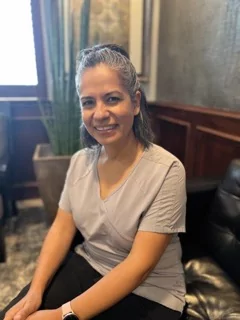 Zulma grew up in Mexico, she has been in Summit County since 1997. Prior to becoming a dental hygienist, she was a dental assistant for 10 years. Zulma graduated with an associate's degree in dental hygiene in 2017 from Colorado Northwestern Community College. She is very passionate about the dental field; she loves contributing to peoples oral and overall health. Among other skills, Zulma is fluent in Spanish and English. When not working Zulma enjoys hiking, exercise, yoga, spending time with family and friends and enjoys following her daughter around Colorado for softball tournaments.
---
Presleigh
Hi! I am Presleigh, I've been working with Almeida and Bell since May of 2020, but I've been part of the team for a lot longer. My Grandpa, Dr. Donald Almeida started this practice and I've been coming here with my Mom, who also works here as the office manager, ever since I was a baby 🙂 My Grandpa has since retired, but I still very much enjoy coming to work everyday with my Mom and Uncle, Dr. Almeida. I really love my coworkers and my family, and I enjoy coming to work and being around good people all day. I am saving up to travel and then go to school, and in the meantime I am learning Japanese and Spanish! I love walks, my sweet cats Powder and Sugar, Studio Ghibli movies, skincare, and tea.
---
Elisa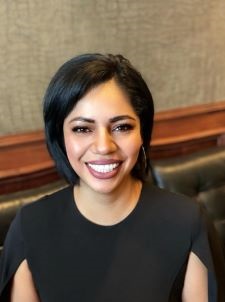 They said to "allow your passion to become your purpose, and it will one day become your profession". I found my passion thirteen years ago, and am still counting. Finding a passion in dentistry goes beyond the surface for me.
I began my career specifically with Almeida and Bell Dental eight years ago, in January 2015. It has allowed me to continue living my passion, but most importantly, the joy and transformations we provide to our customers is like an immediate light that shines when they see their teeth again. Being able to assist our customers in any of their dental needs is great, but it is also my goal to provide an environment where our clients can feel the hospitality from the minute they walk in.
It is always our goal at Almeida and Bell Dental to be the best in the country. Therefore, every day we work as a team to create and live up to this standard and provide the best dental care possible for all customers who walk in our doors. Our customers become part of our Almeida and Bell family.
Therefore, living in our passion helps me guarantee you and all those who walk into our doors will be in the best dental care hands. Everyone will always feel welcome, and most importantly, you will leave feeling refreshed and smiling at the world with confidence.
Born in Los Angeles, CA, but Colorado raised me. During my spare time, I enjoy quality time with my loved ones and enjoy going on adventures to new places with them. My husband and I have three children and three fur babies, whom we hold so dear to our hearts. I also enjoy reading, salsa dancing, skiing in the winter, and paddle boarding in the summer.
---
Mishelle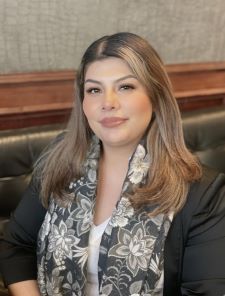 My name is Mishelle, I recently joined the family of Almeida and Bell Dental in December 2022. I am bringing over nine years of customer service. You will find me in the front desk area helping our patients schedule their appointments, and answering any questions they may have. While not at work you will find me building my own business as a make-up artist. In my free time I enjoy movie dates with my son who enjoys cooking homemade meals with me. I look forward to meeting you!
---
Brian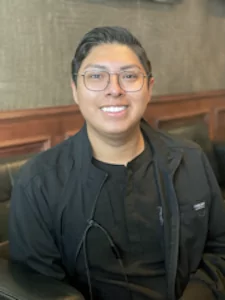 Hello everyone!
My name is Brian, I have been in dentistry since 2017. I have background experience in General dentistry, Oral surgery, Endodontics, and Pediatric dentistry. I was even an instructor and one of Denver's dental assisting schools. I am very passionate about what I do. My favorite thing about working at Almeida and Bell Dental is helping our patients achieve their smile goals. I am currently working on a Bachelor of Science in Public Health at the University of Colorado Denver.
Dental school is my goal!
During my free time I love to cook and learn new recipes. If I'm not cooking you can find me exploring new restaurants or hidden food gems in Denver.
---
Silvia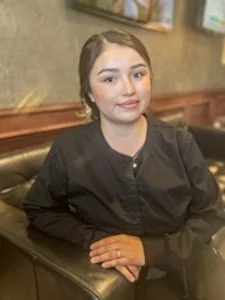 Hola me llamo Silvia! 
I'm fluent in Spanish and English. Born and raised in Colorado. 
My favorite thing about dentistry is the feeling you get when you know you've made a positive difference in someone's life. I've been in the dental field for 5 years and it's been a journey! I just recently joined the team at Almeida and Bell dental. They're a family based dental office that REALLY takes care of their patients and employees. I love it here!
On my free time I love to spend time with my dog and fiancé. My absolute favorite season is Fall/Winter it's a beautiful view in Colorado.
---
Jenny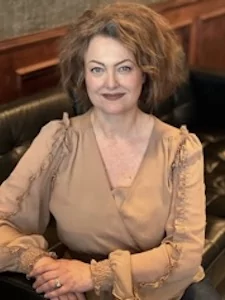 Hi my name is Jenny. I became part of the Almeida Bell team in March of 2023. After many years in real estate, I came back to what I truly enjoy…dental.
I moved to Colorado from my home state of Oregon a little over 20 years ago. My husband, son and I love Colorado and all it has to offer. I enjoy the outdoors, traveling, food and cooking.
---
Eliza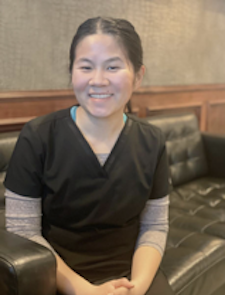 My name is Eliza, and I work as a dental assistant at Almeida and Bell. I am friends with a former hygienist from this organization and am studying dental hygiene in school. I'm very pleased to be working here and learning more about how a dental practice operates. Apart from work, I enjoy hiking and other outdoor activities. I also spend as much time as I can with my friends.
---
Cali
Hello! My name is Cali and I am a dental hygienist and I absolutely love the field of dentistry! I am originally a NY native who has found myself here in Colorado like so many others. Although it has been hard to be so far from family, I've found great comfort in my community of friends I've made at church. I've known since I was a young girl that I wanted to become a dental hygienist. Unfortunately, my path was not linear in becoming a dental hygienist, however, my experiences in getting here has made me a thorough, knowledgeable, compassionate, healthcare professional. I have been in dentistry for almost 12 years now. I started as a dental assistant in a few different states in several specialties as well as teaching a dental assisting program. Not only do I believe it's my job to provide you with excellent patient care in my chair, it is also my duty to educate you and provide you with resources, tools, tips and tricks to keep yourself healthy at home and guide you in making the best health care choices for your needs. Thank you in advance for entrusting me with your care! I look forward to meeting you!
---
Destiny
Joined the Almeida & Bell Dental family in 2023.
---
Sheila
Joined the Almeida & Bell Dental family in 2023.
---
Preston
Joined the Almeida & Bell Dental family in 2023.
---