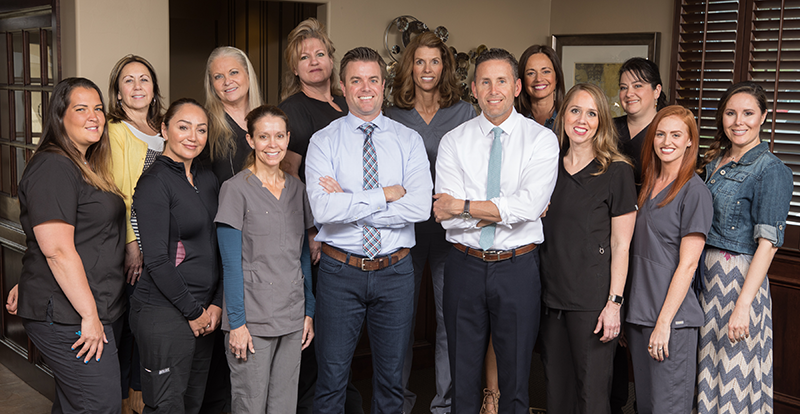 ---
Tiffany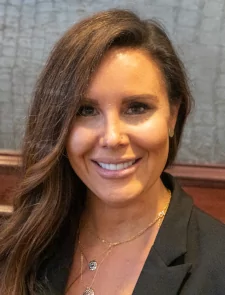 I have been in the dental field for 13 years. I love to help patients get the dental work they need and/or want. I also love working with the best staff and doctors. I look forward to going to work everyday.
I grew up in Littleton, CO and now live in Southeast Aurora. I love to sing and read books. I love hanging out with my husband and 2 kids and going out of town. My favorite way to spend the weekend is watching my kids play their sports, going out to eat and going to the movies with my family.
I want to be remembered as a good and caring person.
---
Jennifer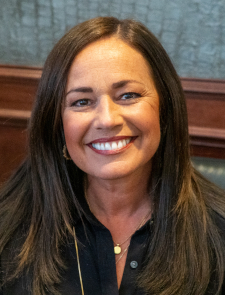 I love interacting with our awesome patients! Insurance, not so much! I have been working in the dental field for 13 years. I feel blessed to work here.
I grew up in Denver! Reading and interior decorating are my favorite hobbies. My family is my passion. When I'm not at work you can find me at home working.
I want to be remembered as happy, fun, spontaneous, and kind.
---
Kristen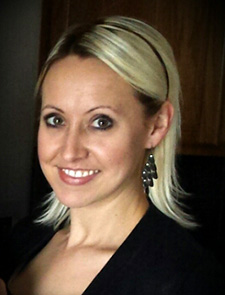 I have been working in the dental field since February 2006. I enjoy helping and interacting with patients.
I grew up in Parker. I love Colorado and still live in the metro area. I love fitness, working out, and reading. When I am not working you can find me working out at the gym, spending time with my family. I also love outdoor activities.
I want to be remember as someone who is kind and hard working.
---
Lisa
I am passionate about helping people have a healthy, happy smile! I want to help patients enjoy and have a good dental experience at our office. I have been working in a dental office for 5 years.
I grew up in several different states–moving with my family–but mostly in Denver. I moved back to Colorado with my own family in 1981 and have been here ever since. I am personally passionate about my family and friends. I also enjoy reading and shopping. My favorite way to spend a weekend is relaxing, taking care of my house or shopping!!
I want to be remembered as a person who loved and cared about others.
---
Gaylynn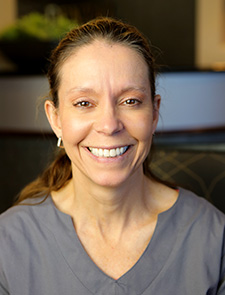 Professionally, I am passionate about patient care and being thorough during your visit. I also enjoy educating you on your oral hygiene needs and listening to your concerns and desires. I have been a dental hygienist for 19 years.
I grew up in a small farm town in Iowa. It was my love for the outdoors that brought me to Colorado. I enjoy spending time with my son and experiencing events and activities together, spending time with family and friends, and doing research. Sometimes I can't stop talking about how much I love being a mom. When I'm not working you can find me outdoors; hiking, swimming, biking, playing in the snow with my son, sledding, and gardening.
I want to be remembered for giving my best.
---
Sherri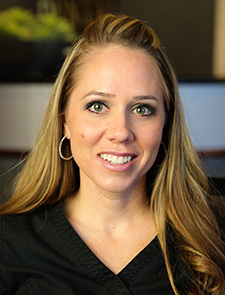 Hello All, I am Sheri. I have been a fixture in this Dental practice for 28 years. I enjoy the family atmosphere that we have here and love all of my co-workers. The quality dentistry we provide here, and the lives we change through creating beautiful smiles and healthy mouths is very satisfying as a professional. Family is very important to me. I have two grown children and a beautiful granddaughter that I cannot get enough of. Traveling is one of my very favorite things to do, but seeing new places in my own state and having adventures with my family is my passion. Photography is my favorite hobby.
---
Abigail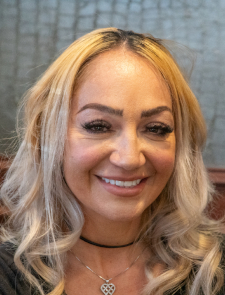 I love this job! They say, " you never work a day in your life If you love what you do!" I totally feel that way. I have been in Dentistry since 1998, I started as a dental assistant and worked my way up and eventually went back to school for my Dental Hygienist Licence. This is where I thrive, this is where I live. I have 21 years experience and have practiced Hygiene for 4 years. I love educating people on good oral health care, I love people! I've Been accused of having hands of silk and being gentle yet thorough with my instruments. That's everything! When I am not working one can find me hanging out with my friends and family, watching movies or shopping online or at the mall. I enjoy weekend trips, little getaways. I am an avid cycler too and on my down time I draw inspiration from a great podcast or ted talks. I love things that inspire me, things that challenge me and I always want to grow whether in my personal life or work life. On really lazy days I enjoy binge watching on Netflix.
I want people to remember me by having great conversations, paying out compliments, laughing a ton and making them feel comfortable.
---
Sheri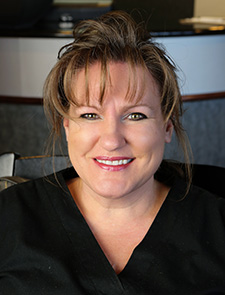 I have worked in the dental field since 2001. I'm most passionate about educating people on how their oral health relates to their overall health, thereby improving their quality of life by lowering risks of certain diseases. I love when a patient tells me how much better they feel after treatment.
I grew up in Arizona, but my super hot husband lives here, so here I stay. My family and friends that feel like family are my biggest priority in life. My husband and I have 4 kids, and have come from great families that helped shape who we are today. I am pretty goofy and I love to laugh. I love to run, hike, and read. Most of those I enjoy solo, but if I got my first choice my husband and I would be running or hiking together, or refinishing an old cool piece of furniture we found. We love projects! Or watching funny movies together.
I would like to be remembered as a kind, happy, honest person who makes people feel important.
---
Ceara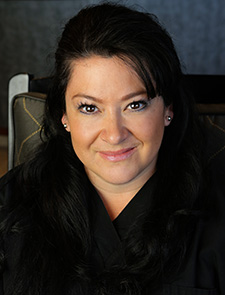 I've been at Almeida and Bell for 6 1/2 years. I am most passionate about making a difference in the lives of our patients. Our cosmetic makeovers can really change a person's life. Knowing that I had a hand in making that happen is exciting.
I moved to Denver with my family when I was 15. I enjoy spending time with my family. I have 3 children so they keep me busy with baseball games, recitals, and cheer competitions. In late summer/early fall I love going to farmer's markets. My girl friends and I do it every Sunday during those months.
I want to be remembered as being fun, loving, and a good wife and mother.
---
Ashley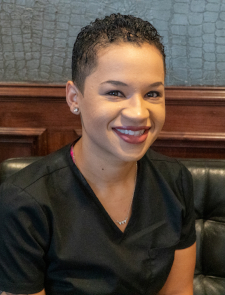 Hello! My name is Ashley and I am a Denver native. I'm a graduate of Concorde Career College-Aurora and have been a dental assistant for 8 years, and I truly enjoy my job. I love the family atmosphere we have in our office, not only with our staff, but shared with our patients as well. Working here is a great experience, and the care we show our patients is unlike any other place I've worked before in the dental field.
I am a proud mother of three beautiful and amazing children. When I'm not at work, I can be found cheering my kiddos at their sporting events. I am an avid fan of the Denver Broncos and I enjoy watching their games, especially when they're winning.
I've been truly blessed with a wonderful family and a good job.
---
Sarah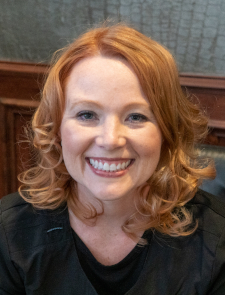 Hello everyone. My name is Sarah. I joined the dental field in the fall of 2001. I am a graduate of Cambridge College with an Associates of Occupational Studies in Allied Health Management in Dental Assisting. As part of my continuing education, I completed the expanded functions training for Dental Assisting through the University of Colorado School of Dentistry in late 2002. I have been blessed to be a part of the outstanding team at Almeida and Bell Dental for nearly seven years. It's an exciting and rewarding experience to develop relationships with each of our patients and to partake in their journey to achieving a healthy and beautiful smile that will last a lifetime.
Outside of work, I enjoy spending time with my husband, Brian and our twin boys, Alex and Ben. My family enjoys taking camping and fishing trips to the Colorado Rocky Mountains. Locally, we like to go hiking the neighborhood trails, visit historical sites, and take dog walks with our border collie, Skye.
---
Savannah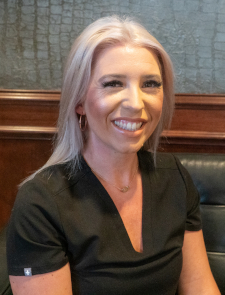 Hello my name is Savannah!
I was born and raised in Clarksville, TN, just North of Nashville. I have lived in Colorado since 2014, and my journey in dentistry began back in 2011 in Tennessee. I joined Almeida & Bell's practice in 2017 and I love being a part of a dental team whose core values of family truly resonate with me.
I met my husband at a local TN winery while he was stationed at Fort Campbell, KY.
I enjoy working out and doing hot yoga. For fun I like to snowboard(even though I'm still learning), water sports or just being on a boat, and I love a good spa day. My husband and I enjoy trying new restaurants and traveling. In the winter Breckenridge is our go to mountain town for a nice weekend get-away.