Porcelain Dental Crowns in Denver and Lone Tree, CO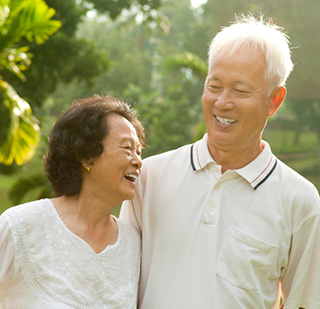 A dental crown is a cap placed over the top of a tooth to restore the tooth. For a weak, decayed, or cracked tooth, a dental crown ensures stability and restores functionality. For a misshapen or discolored tooth, a tooth crown reconstructs the tooth for a beautiful smile. Many dental crowns are made of porcelain. These porcelain crowns are durable and can match the color and translucent quality of your original teeth.
The Procedure for Porcelain Crowns
Your dentist in Lone Tree, Colorado at Almeida & Bell Dental Cosmetic, Implant & Sedation Dentistry makes an examination with x-rays of the affected area and determines that a dental crown is needed.
The original tooth is filed down to make room for the new porcelain crown. If a large portion of the tooth is missing, the dentist may build up the small tooth with filling material.
An impression of the filed down tooth and surrounding teeth is made to enable proper sizing of the porcelain crown and assure that your bite is not affected.
A temporary dental crown is placed over the tooth to cover and protect the tooth while the porcelain crown is being made.
Dr. Almeida or Dr. Bell will match the porcelain crown to the color shade of the other teeth. The impressions are sent to a dental laboratory where the dental crown will be produced.
After a few weeks, the temporary dental crown is removed, and the new porcelain crown is cemented into place.
After placement of the new porcelain crown, good oral hygiene is recommended to keep the underlying tooth from decaying. Porcelain crowns usually last about ten years.
Crowns in a Day
Now with the most modern technology, you can have your new permanent dental crown in just one visit! No need for multiple visits or a temporary crown! When you come for your appointment, your tooth will be prepared for your new crown. With the E4D Dentist system, Drs. Almeida and Bell can then take digital images of your prepared tooth, which are used to virtually design your final restoration with precise measurements. This design is sent digitally to an in-office milling station where your new dental crown is fabricated in just minutes! Any adjustments to color can be done right there in the office. Now you can receive your dental crown with less hassle, less time, and greater comfort!
Schedule a Porcelain Crown Consultation in Denver or Lone Tree
We are happy to show you before and after photos of smiles restored using porcelain crowns. For more information about porcelain dental crowns, arrange to visit our office in Denver or Lone Tree, by calling 303-858-9000 or simply fill out the short form on this page.