Denture Implants & Permanent Dentures in Lone Tree, CO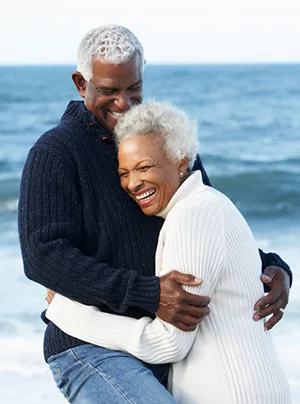 A dental implant is an artificial tooth root composed of a particular titanium alloy that can fuse directly with your jawbone. Dental implants keep your jawbone strong and healthy even after you've suffered significant tooth damage. At Almeida and Bell, we can use dental implants to replace missing teeth and to create implant supported dentures, or implant retained dentures, and Same Day implant supported dentures. Dental implants act as anchors to permanently attach a denture apparatus, alleviating many of the common issues with traditional dentures. If you are seeking a permanent dentures solution, contact our dental implant specialist at Almeida & Bell Dental Cosmetic, Implant & Sedation Dentistry today.
Implant Supported Dentures or Implant Retained Dentures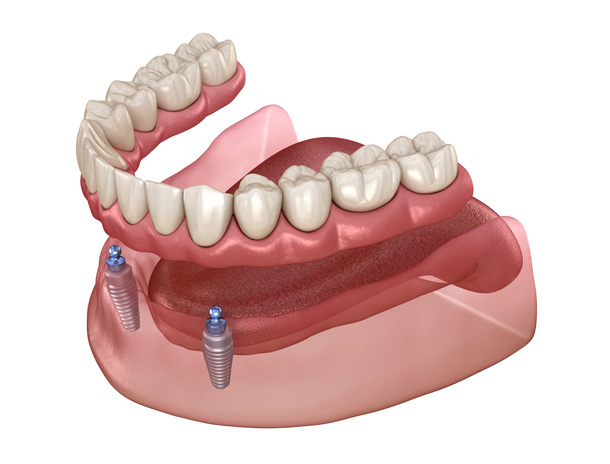 For patients who have lost all of their teeth, implant supported dentures provide a more sturdy, comfortable alternative to traditional dentures. With implant retained dentures, patients never have to worry about their teeth slipping or clicking out of place at inopportune moments. Implant supported dentures use dental implants to secure dentures to the jaw. Our implant supported dentures are a more permanent feeling solution to tooth loss. Each set of our implant supported, or implant retained dentures is custom-made for the patient to provide them with perfect occlusion, beauty and comfort. Our implant supported dentures look so natural and fit so securely that the people you meet won't ever know you're wearing dentures. Now we can install implant supported dentures even faster with Same Day Dentures.
Same Day Dentures
Same Day Dentures is an implant supported denture procedure that uses four strategically placed dental implants to secure dentures and to keep the jawbone healthy and strong after tooth loss. Same Day Dentures is a unique implant supported denture procedure because it allows your dentist to place your implants and dentures in one appointment. You can walk in our office one day and walk out the same day with a brand new set of permanent dentures.
Benefits & Advantages of Implant Dentures
Dental implant supported dentures come with a variety of advantages as a tooth replacement solution. Here are just some of the many benefits of permanent dentures:
Look & Feel | Implant dentures have the appearance and function of natural teeth. Nobody will even notice that they aren't your real teeth.
Permanent | With permanent dentures, there is no gum irritation from your dentures slipping and moving around while you talk and chew. Denture implants are permanently attached to dental implants in your jaw so they will never slip, fall out, or get lost or damaged. Denture implants can last a lifetime with proper care.
Improved Jaw Motion | Denture implants dramatically improve your speaking and chewing abilities when compare to traditional dentures.
No Adhesive | Implant supported dentures elminate the need for denture adhesives to hold your dentures in place.
Stronger | Implant dentures are stronger and more durable than traditional dentures. You will be able to eat and chew all of the things you used to before you had dentures.
Am I A Good Candidate for Denture Implants?
Denture implants are an excellent restorative dentistry solution for patients who are missing most, if not all of their permanent adult teeth. Denture implants combine all of the benefits of dental implants and traditional dentures into one permanent solution. If you or someone you know is struggling with their dentures or are in need of a full-mouth restoration, contact your implant dentures dentist in Lone Tree CO, today. We will be happy to schedule a consultation with you and discuss your unique individual needs.
Contact Us Today!
To find out more about Same Day Dentures or our implant supported dentures, or how implant dentistry can replace your missing tooth, call us at our office in Lone Tree, CO. We would be happy to answer any questions and to schedule an appointment.